Graphic Web Design Company, Creative Graphic Design, Graphic Website Designer
Graphic Design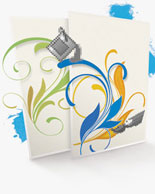 Welcome to Karmick Infosystem- A software Development Company specialized in creative graphic design services. We provide constructive graphic designs, interactive media design, product design solutions, logo design and so on. Our specialized team of animators, illustrators and programmers are always at your service to assist you with designs, graphic and animations. Our creative instincts, unmatched resources, depth of knowledge, and unparalleled graphic design services will simply amaze you.

We are a team of experts who promises each of its client's total dedication on every work that we undertake. May it be a 'Website Design' or 'Graphic Design work', or a 'Corporate and Logo Identity package'; we are always at your service to give 'Quality' WORK. In today's Internet era, people look for platforms to boost up their sales. Using web as well as creating graphic designs on it with practicality and precision is a vital need to grow your business. Online promotional tools like E-brochure, Website, Banner ads play a very important role to make the first impact or response of your business. Karmick Infosystem Graphic designs deliver the current trend and extensive Graphic design services for you that will surely fit you apart from the e-commerce crowd.

Come to Karmick Infosystem, enjoy your presence in the cyber world, distinguish the possibilities and spread out your territories. We just do not talk but give our best performance through professionals. You can be assured that our customized designs will reflect your brand or web's true character. We promise you that we will never leave any stones unturned while serving you.
Services
Corporate Web Design
Corporate Logo Design
Brochure Design Services
Corporate Identity Design
Flyers Design Services
Corporate Ads Design
Postcard Design
Corporate Newsletter Design
E-Catalog Design
Flash Design

With all Packages

Free 24X7 Technical support.

Maintenence support.

Business keyword research.

Business listing coordination.

Business listing confirmation.

Business listing instruction.

Business listing data addition.

Business listing data updation.

Business listing photos.

Business listing add videos.

Business listing update videos.

Business listing services.

Business listing information.

Free search engine listing .

Visitor Stats.

Professional Photos.

Unlimited Design Revisions.